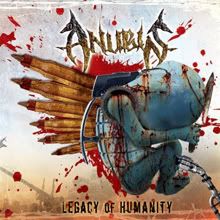 Oriundo da capital paraense, Belém, o grupo Anubis chega a seu debut, este Legacy Of Humanity, que apresenta um thrash metal sem muitas inovações, porém muito bem tocado e empolgante.

Nitidamente influenciados por Slayer , os paraenses tem tudo para cair no gosto dos thrashers de todo o Brasil. Destaque total para o trabalho dos guitarristas Renato Costa e Vinícius Carvalho.

Ambos mostram muito bom gosto nos arranjos, peso nas parte groovadas e solos sem exageros, porém perfeitamente encaixados a proposta da Anubis.

Muito bem mesclado entre canções lentas e rápidas, temos com "Forbidden Game", "School Of Hate", "Anubis" (a melhor de todas) e a excelente instrumental "Under The Influence" os melhores momentos do disco, que diga-se de passagem, está muito bem gravado e mixado.

Se você não conhecia a Anubis, trate agora de adquirir este álbum. Parabéns a Distro Rock Records por apresentar ao Brasil este grupo. Se deixar, esses paraenses vão longe!