Por Lucio Oliveira em 31/07/10 | http://underground-ma.tk
A Seed Falls já pode ser considerada uma forte banda da cena amapaense. mesmo com pouco tempo de estrada o grupo consquistou uma boa legião de fãs e divulga seu primeiro trabalho, a promo intitulada "Reason to live and die". A banda é formada por: Vanessa rafaelly(Vocal), Alan Flexa(Guitarra), Adriano(Baixo) e Ronald Vomitory(Bateria). Conversei com a vocalista Vanessa Rafaelly e ela contou peculiaridades sobre a breve, porém, promissora carreira da Seed Falls.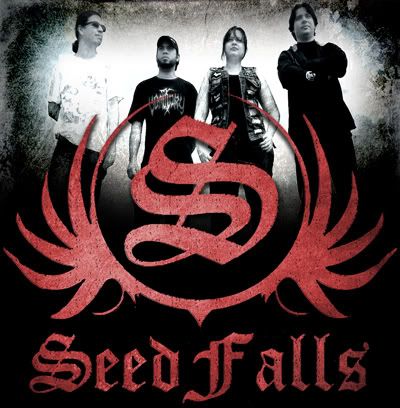 Conte-nos os primórdios da Seed Falls. Explique o significado do nome do grupo.
Vanessa: O surgimento da banda Seed falls foi em 2009, cujo lançamos um ep intitulado reason to live and die, os fundadores foram: Vanessa Rafaelly(vocalista), Alan Flexa(guitarrista), Adriano Joacir(baixo),Fabricio Góes(ex-guitarra da Seed Falls e guitarrista da banda Anonymous Hate) e Tato(ex-bateria Seed falls e atual baterista banda profetika), tivemos duas pré-estreias uma na expofeira do Amapá e outra no teatro das bacabeiras, junto com a Orquestra Primavera onde levamos nossa musica alquimia. Em 2010 se juntou a banda Ronald vomitory(bateria), e assim estamos com esta formação a quase um ano.
O nome Seed Falls " semente caída" foi uma homenagem ao artista plástico e escritor amapaense Ivan Amanajas que relata nesse poema sobre bombardeios e as problemáticas pós-guerra.
Tive a oportunidade de ouvir a ótima "Reason to live and die", música que está na promo auto-intitulada, disponível em nosso podcast e está sendo alvo de ótimas críticas, Sem falar na sua voz que é linda. Esperavam essa recepção?
Vanessa: Sinceramente estávamos muito apreensivos, não esperávamos que fossemos ter uma boa recepção, pois tínhamos medo de receber retaliações já que é algo novo, uma mulher fazendo vocais líricos, guturais e populares ao mesmo tempo em uma musica, é diferente e eu particularmente me achava esquisita por isso, rs. Mas fico muito grata pelo apoio que estamos recebendo do público, está sendo ótima a receptividade e faz com que nos motive mais e mais a criar as nossas musicas com características peculiares.
Ela será a pré-produção do que virá no álbum de estréia?. O que você pode nos dizer sobre essa música?
Vanessa: Sim será, juntamente com mais quatro musicas. Reason to live and die "Razão de viver e morrer"
É o dialogo de três personagens um que é representado pelo vocal mais scream (Morte), pelo lírico (A razão) e o popular (Vida)... Três visões diferentes em relação à temática, um incentiva a morte, e o outro tripudia a morte, apenas quer viver e exalta o quanto é bom viver, e enfim a razão que julga ambos.
Com o surgimento de vários subgêneros do heavy metal, como você classificaria o som da Seed Falls atualmente? Já tentaram rotular a banda de uma forma absurda no ponto de vista de vocês?
Vanessa: É metal..Não tem uma vertente especifica, mas temos influencias que variam do heavy metal tradicional, thrash, doom, death e fazemos a mesclagem desses seguimentos porque é o que gostamos de fazer, criamos de acordo com o momento. Já rotularam, mas não digo de forma absurda, mesmo porque misturamos as vertentes. Mas já classificaram a banda de doom, outros de metal melódico, outros thrash, depende do ponto de vista, mas ficamos muito gratos que estamos agradando um publico diversificado que curte do death ao heavy metal tradicional, pra nós isso é ótimo.
Hoje com myspace, Orkut, twitter da para se aproximar dos fãs e contatos em geral. Como a Seed Falls lida com essa realidade?
Vanessa: Com toda certeza nós ficamos muito felizes, de estarmos próximos do carinho dos amigos, que sempre estão nos apoiando, nos momentos bons e ruins, E não nos abandonam, é maravilhoso isso, o carinho com toda certeza é retribuído com atenção, com dedicação, é prazeroso demais estar junto com eles.
A Seed Falls costuma tocar covers nos seus shows? Já pensaram em incluir algum destes covers em um próximo cd?
Vanessa: Sim tocamos atualmente apenas um cover que é do nosso rei Dio "Rainbow in the Dark" que é uma forma de homenagear o ícone do heavy metal, Ainda não pensamos em gravar algum cover, mas é algo interessante de visualizar futuramente.
Como é a cena Rock/Metal do seu Estado, o Amapá. Além da Seed Falls, quais bandas amapaenses você destacaria?
Vanessa: Aqui no Amapá temos varias bandas do seguimento do rock e metal, vários eventos e um público maravilhoso. As bandas que na minha opinião se destacam são:
Anonymous hate
(Grind/Death Metal),
Marttyrium
(Death Metal),
Hidrah
(Power metal melodico),
Balzabouth
(Death/Black Metal),
Sloth
que é uma banda consagrada que toca covers só dos clássicos do thrash metal, Nossa é uma lista enorme de bandas que gosto, adoro o cenário do meu Estado.
O que rola no seu play ultimamente? Quais são suas influências e o que você recomenda?
Vanessa: O que rola no play ultimamente de metal como sempre é Vader, Suffocation, Nile, Destruction, Necrophagist. As minhas influencias variam muito da musica erudita, jazz, blues, death metal, thrash, heavy metal...Chris Barners, King diamond, Dio, Ozzy, Eric adams, Floor Jansen...São muitas influencias.
Finalizamos aqui. Muito obrigado pela entrevista. Desejamos muito sucesso! O espaço é de vocês para deixarem suas considerações finais.
Vanessa: Queremos agradecer ao web zine UNDERGROUND-MA, ao amigo Lucio pelo apoio, a Metal Chaos Produções, pois estaremos em breve aí com vocês e espero que curtam o nosso trabalho e agradecer aos fãs amigos da banda que sempre nos apoiaram e ao pessoal que valoriza o esforço e trabalho do underground brasileiro.